From offering training to develop your skills, respecting who you are as an individual, to offering a profession with purpose, we are committed to ensuring our Resourcers are fulfilled at every stage of their career. 
Our Purpose is our compass — it underpins our values and drives our ambition. If you see the world as we do then a sustainable career at Veolia Water Technologies could be for you. Are you thinking of becoming a Resourcer but need a little more insight into life at Veolia. 
Here are the top five reasons you should join our team.
1. We are committed to ecological transformation
We are a major contributor to 11 of the 17 United Nations' Sustainable Development Goals and will continue to contribute to all SDGs wherever water is concerned.



2. We are committed to skill development
Our Resourcers are our first asset. We care about making sure they get the best experience possible by supporting their professional development through training and internal mobility. We are also convinced that to give their best, they need a healthy work-life balance and overall wellbeing. A part of this is our So'Sport community, focused on keeping fit and for more than 18 years we have taken part in the World Company Sport Games. 
81% of our employees feel their skill level has improved over the last year.*
76%of our employees are satisfied with their work-life balance*.
*based on the answers from more than 5,000 of our employees, as part of our 2022 employee engagement survey run by IPSOS.
3. We are committed to a healthy and secure work environment
Health and safety has and always will be one of our core values.  We have gone to great efforts to ensure health and safety is woven into the fabric of our culture by making health and safety everyone's responsibility. 
We have given all our employees Stop Work authority if they feel a situation is unsafe and we keep safety topics in constant focus, not to mention our week-long International Health and Safety Week held annually in September.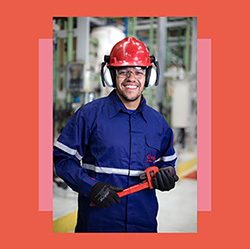 44% drop in accident frequency rate since 2016
38,441 hours of safety training completed in 2022
One week dedicated to safety awareness, training and activities for all global employees
96% of our employees say that health and safety is very important in their business area*

*based on the answers from more than 5,000 of our employees, as part of our 2022 employee engagement survey run by IPSOS. 
4. We are committed to equal rights and diversity
Our multifaceted performance places equal importance on five dimensions: our commercial, economic and financial, environmental, social and societal performance.
Our social commitments include promoting diversity and inclusion in the workplace from gender equality and all-round inclusiveness, to combatting all forms of discrimination.
91% of our employees say that they are supportive and respectful of one another in their entity*
 
Dec. 2022  Veolia signed the International Labor Organization's Global Business and Disability Charter, a further statement of its firm commitment to people living with disability.
40% of our Executive Committee are female
*based on the answers from more than 5,000 of our employees, as part of our 2022 employee engagement survey run by IPSOS.
5. We invest in our talent 
Ecological transformation is not going to happen overnight and we know we need talented, like-minded people to help us solve the environmental challenges we face now and those of the future. This is why we place our emphasis on the long-term career development  of our Resourcers' and on cooperation between our teams. 
As well as training and development to succeed in your role, we offer various internal mobility opportunities, enabling employees to explore different specialties or professions within the organization. This internal mobility can provide a chance for personal growth, broadening your skillset, and diversifying your expertise. 
 
Meet the Resourcers on our mobility programme.